By Dominic Chorafakis, P.Eng, CISSP – September 11, 2019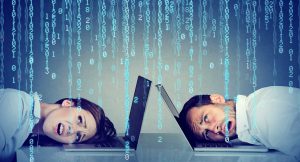 Today's small and medium businesses are increasingly a favourite target for cyber criminals.  The government of Canada's most recent cybersecurity threat report states that business of all sizes are vulnerable. Hackers and cyber criminals don't discriminate based on company size, location, or annual revenue; they simply look for the easiest way in, which is through an unprotected system most often found in a small business.  "Businesses can no longer rely on anti-virus alone to protect their systems and applications," said Bruno Macchiusi, founder of Toronto-based IT Service Provider Alpha Logics. "We're seeing a large number of attacks that are able to bypass anti-virus these days".
What are the top 3 biggest mistakes that small & medium businesses make?
They think that they are too small to be of interest to hackers
They lack knowledge of the simple steps that they can take to prevent becoming victims
They assume that security solutions are too costly and only for large organizations
Recent updates to laws like Canada's Personal Information Protection and Electronic Documents Act (PIPEDA) makes organizations that hold personal staff, client, or member information accountable to report any significant data breaches; this includes breaches in small to medium businesses.  The legislation means that companies can no longer hide if they've been victims of a cyber-attack. This type of disclosure can seriously damage a company's reputation (remember Equifax?). Small and medium size businesses are often poorly informed and can be blinded-sided by their legal responsibilities making them more vulnerable to the fallout from an attack.
We know that incidents of cybercrime are on the rise, a recent StatsCan report found that one-fifth of Canadian businesses reported that they were impacted by a cyber security incident. Recovery costs are also on the rise and range from $113,000 for medium-sized businesses (50 to 249 employees) to $46,000 for small businesses (10 to 49 employees).
So how do businesses keep themselves protected from hackers?
Expect that you'll become a victim and plan ahead. There are many security measures that can help keep you and your data safe, but nothing can guarantee you 100% protection.  Being prepared can reduce the impact, cost and time of recovery.  Here are our top 5 tips on how to be cyber safe.
Back-Up Your Data – so if your company information has been stolen or is being held for ransom you can refer to your back-ups and be up and running again with minimal downtime.
Install the right protection software – make sure that you install anti-virus, anti-spyware and internet firewall tools.
Keep your operating system up-to-date – try to keep your systems updated with the newest version available. These updates have important security patches and fixes that will protect against the latest threats.
Employ good email and internet habits – one the most popular tools that hackers will use to attack you is through phishing emails and visiting infected sites (malvertising). Clicking on suspicious links or downloading malicious files are common ways that you and your staff can let hackers into your business.
Consider a monitored security solution – many businesses make the fatal mistake of thinking that these types of solutions are too costly or complex for them. Services like My Security Console allow businesses to enjoy enterprise-grade security features for small business prices.
Want to learn more? To receive important cybersecurity updates on the latest threats with tips on how to stay safe click on this button to follow us on LinkedIn or join our critical updates mailing list.