Akouto's white label managed cyber security solution provides advanced protection against online threats and security breaches to prevent financial loss caused by viruses and malware, ransomware & extortion, unplanned downtime and data corruption. Our Managed Security service partners are armed with the expertise, technology and personnel needed to defend businesses against constantly changing threats and attacks.
| | | |
| --- | --- | --- |
| Network Security Appliance | ✔ | Stop threats at the network level and protect all your devices including servers, desktops, laptops, mobile phones, tablets, servers, and surveillance cameras. |
| Inbound Intrusion Prevention | ✔ | Inspect all inbound network traffic to detect and stop threats from the Internet attempting to get into your network. |
| Outbound Intrusion Prevention | ✔ | Inspect all outbound network traffic to prevent users from accessing malicious content on the internet and detect suspicious activity on your network. |
| Country-based blocking | ✔ | Customize firewall rules to allow or deny traffic from specific locations. |
| Malicious IP address ruleset | ✔ | Custom malicious IP list blocks network traffic to and from known malicious IP addresses to protect all your devices from known hostile systems. |
| Intrusion Prevention ruleset | ✔ | Custom Intrusion Prevention rules inspect all network traffic to detect and prevent threats at the network level. |
| External Network Scanning | ✔ | External network scans detect open ports that may allow hackers access to your network or the systems connected to it. |
| Honeypot | ✔ | Detect viruses and other threats attempting to spread to other systems on the network. |
| DNS Firewall | ✔ | Block access to known malicious domains and URLs that are used to spread ransomware, trojans and other malware. |
| Live Monitoring | ✔ | Monitored by trained cybersecurity experts to detect malicious activity and alert your IT staff to critical security issues. |
An Inline Intrusion Prevention Security Appliance
The Network Security appliance blocks inbound threats and prevents users from accessing malicious sites and content. It also helps identify internal systems that are infected with malware that is able to bypass anti-virus.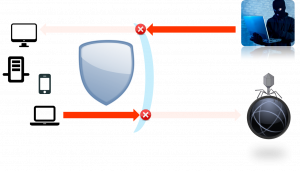 Advanced Cloud Analytics Algorithms
Advanced algorithms analyse security information to detect hidden issues and alert monitoring staff about any issues that require immediate attention.
Branded Web Management Portal
Administrator and end-user portals branded with your company logo provide security information, statistics, reports, remote monitoring and management.
A Professionally Monitored Security Service
Security information is streamed to the monitoring servers where trained cybersecurity experts monitor and analyse the information to identify issues and work with your IT staff to contain and mitigate threats.
Cloud Network Scanners
Cloud-based network scanners check customer networks for unauthorized entry points and firewall mis-configurations.