Cybersecurity Essentials
By Dom Chorafakis, CISSP
June 15, 2017
The cyber threat landscape is constantly changing as criminal hackers look for new and creative ways to profit from online crime. While there is no silver bullet that can guarantee protection against breaches or other forms of attack, keeping up to date with the latest threats and vulnerabilities is an important part of any security strategy.
Cryptojacking
With the rise in popularity of digital currencies like Bitccoin and Etherium, cybercriminals have found new opportunities in cryptomining as a revenue stream. The unauthorised use of computer resources to mine cryptocurrency known as cryptojacking has now exceeded ransomware as the largest online threat. There are two aspects to this that are important to take into account from a security perspective: website compromises and malvertising.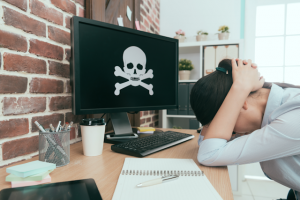 Hackers attempt to install cryptomining software on victims' computers by installing malicious code on websites they are able to compromise. Web servers have always been vulnerable to hackers because of their very nature, but the potential for profit from illicit cryptomining makes them more interesting targets than ever before. System administrators need to ensure that servers are adequately protected by making sure the operating system and software is up to date, accounts are secure and use strong passwords, endpoint security mechanisms like anti-virus is installed, servers are protected using Intrusion Prevention technology, and that measures are in place to detect and prevent unauthorised content changes.
Malvertising
In addition to compromising legitimate websites, hackers are creating fraudulent sites that look legitimate, directing users to these sites using fake online ads displayed on popular websites, a practice known as malvertising. This practice is not new, but a significant spike in cryptojacking related malvertising was recently observed by a network of Intrusion Prevention systems as reported here.
People surfing the internet should assume that at some point they will come across either a legitimate site that has been compromised, or a fraudulent site set up specifically to infect vulnerable systems. To protect themselves, users should keep their Operating System and all software they use up to date, make sure good anti-virus is installed and up to date, use safe-browsing plugins from their anti-virus vendor and use an ad-blocker to block online ads.
Email compromise
While there has been a significant increase in these new threats thanks to the potential for quick profit, email continues to be by far the predominant attack vector.  From account compromise and phishing attacks to malicious attachments,  email based attacks are still the most common method used by hackers to infect vulnerable systems with ransomware, cryptojacking software, or trojans used to carry out financial fraud and other attacks. While technologies like anti-spam and anti-virus can help, user education is one of the most effective tools to help minimise risk in this area. Users need to be aware of the types of threats and attacks, how to identify them, and what steps they must take in the event of a suspected compromise.